The Mini Fence Boom is lightweight, easy to handle and flexible enough to follow waves.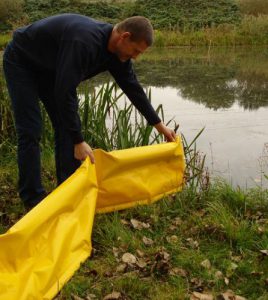 The oil boom is designed especially for small spill near boats and yacht-basins. The screen is smooth on the outside, making it easy to clean. The Mini Fence Boom is used frequently by the fire brigade.
The screen is equipped with quick releases to enable quick (de)coupling. Due to its compactness, it is easy to handle, and can be carried under the arm. To avoid getting caught, the oil boom is equipped with rounded floaters.
Click here for the Mini Fence Boom specifications.
Easy to handle
Polyester fiber, PVC coated
Widely used as a screen for floating debris
Comes in the following colours: Yellow, Orange, and Red