OLThe PVC Fence Boom Flat is lightweight, easy to handle and flexible enough to follow waves.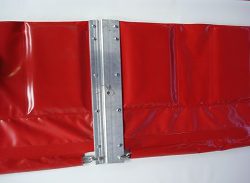 The oil boom is designed especially for use in ports, rivers and other waters. The Fence Oilboom Flat is the ideal screen which is quickly deployable during calamities, both by hand and by the use of tools like cranes, it can be deployed without the use of special boats. The Fence Boom Flat is suitable for enclosing oil and other floating debris. Due to the flat floaters, the screen requires little storing space.
The screen contains cell foam floaters which do not absorb water, even in the long run. The smooth finish of the screen simplifies cleaning after an oil spill. Click here for the specifications of the Fence Boom Flat.
Compact in size

Quickly deployable

A variety of suitable storage solutions: racks, containers and reels

Loops every +/- 2 meter