The curtain oil boom with round foam floaters is lightweight, easy to use, compact and flexible enough to follow the motions of waves.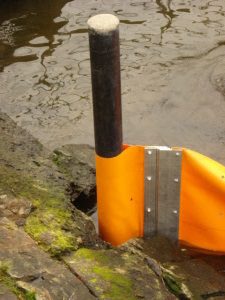 This curtain boom is suitable for application in waters like: harbours, rivers, etc. The curtain boom is suitable for containing oil and other debris. It is the ideal oil boom for rapid deployment during an environmental calamity, both by hand or with the use of a crane. The oil boom is smooth, resulting in easy cleaning after use.
The curtain boom has stable round floaters, resulting in a more stable oil boom compared to flat foam oil booms. The floaters are closed cell which don't absorb water. The blunt floaters prevent the boom from getting caught.
Click here for the specifications of a Curtain Oil Boom.
Widely used
Easy to use
Made of very strong PVC coated Panama fibre 900 grams
Optional with steel cable
Aluminium ASTM connectors
Is delivered in yellow (other colours on demand)